Extra Curriculum
We at Patna Doon Public School strongly believe that given the right tools, students will thrive in taking charge of their own development, but to help them do this, we need to reassess our role as higher education providers.
We not just provide the opportunities for students to achieve good academic results but actively promote the benefits of a wider curriculum to students. This helps the Patna Doonites to prepare themselves to succeed in the many and varied roles they will undertake in future life. Students are encouraged to engage with these activities through a variety of opportunities from Stage shows to lots of creative activities such as Group Discussion, seminars etc.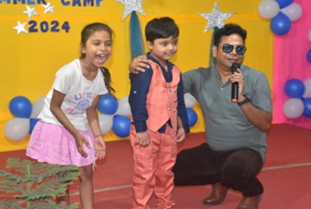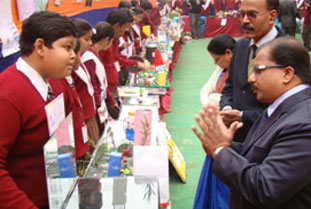 Academic
These activities are based on a certain academic subject, and include both clubs (groups to discuss and practice certain subjects) and competitive teams. Academic teams have competitions that take place at all levels, from local to national.
Clubs in operation:
English Club
Magazine Club
Poetry Club
Quiz Clubs
Writing Club
Science Club
Science Club fosters Students' interest in science and technology and enables them to develop their latent talents, power of investigation and research. It also arranges talks by eminent persons on scientific topics, film and video shows, trips to places of scientific importance, science exhibitions, quiz competitions, debates etc., both on local and inter-School basis, thus it develops the competitive spirit too.
Literary Club
The Literary Club encourages the Students to expose and develop their inborn talents to the fullest extent. Several competitions and cultural programs are held to groom them to face inter School competitions. The literary forum organizes literary and cultural meetings every week.
Maths Club
Maths Club is a fun and competitive activity that any Student can participate in. It is a great way for Students to develop intuitive thinking skills, numerical fluency and learn new types of Math. Students will not only learn new material but will apply their previous knowledge from the School in fun and challenging problems. Furthermore, they will learn to view Math not as a set of rules or guidelines, but as an art. Math is a subject full of creativity and opportunity that many Students enjoy. Besides the academic benefits, Math club is also a great way to meet new people and develop team work skills.
Social Service club
The Social Service club tries to develop in Students a civic sense of charity and gives them opportunity to work for the social uplift and relief of the poor and their suffering. With this end in view, Students who are good in studies and having a helping nature, are selected to form a Social Service team. They will help to maintain discipline among Students and cleanliness in and around the class rooms and to undertake social work for the underprivileged.
Nature Club
School Nature Club activities are valuable at all grade levels. Nature Clubs are a means for Students to explore the outdoors in a way that is educational and enjoyable. Encouraging children, teenagers and adult Students to build and or participate in a Nature Club creates positive experiences and teaches those involved the beauty of the environment. It further aims at inculcating a sense of awareness, about the environment and how to improve it amongst the Students, the parents and the general public. Children who explore, learn, and play outside on a regular basis are healthier, happier, smarter, more cooperative, more creative and more fulfilled. Their well-being is enhanced while they develop a sense of place and bond with family, community and their environment.
Latest News